Tuesday, July 15, 2008
Well today is a special day because I'm ecstatic to welcome the Three Wicked Writers! I begged and pleaded for them to guest blog here because I love their blog and books, I'm just kidding. Well I actually asked Kelly Nyrae if she and her two other wicked writers Regina Carlysle and Anne Rainey would like to guest blog here and they told me today was the day they could make it. Well lets get it started with Anne Rainey, who is here to start talking about erotic romance!
Ah, erotic romance, what a wonderful expression of love. I'm proud to live in a country where we can express ourselves so freely! Sexuality is something to embrace, not hide.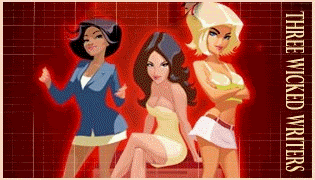 Let me get this out of the way first, and then we can move on. The number one type of erotica or erotic romance for me is an m/f story. It needs to have lots of sexual tension, graphic love scenes and maybe even some toys thrown in for fun. Yum! Now, let's talk about the types I'll never read nor write.
1.) Stories that involve several men and one woman. I know there are some very talented authors out there who write these types of stories and that's great, but it's not my personal taste.
2.) I'm not crazy about ménages where the 3 of them live happily ever after. Why? Because I'm too possessive. LOL I can't imagine sharing my hubby with another. Maybe (and I stress maybe) for one night, but for life? Nope. Therefore fantasizing (or reading) about such a scenario leaves me cold.
3.) A big pet peeve of mine is a rape or a rape/kidnapping scene that disguises itself as "forced seduction". It makes me cringe. There's nothing exciting or sexy about being forced.
4.) This is where I waffle a bit. Female/female stories. So not for me! Then again, I can feel myself thinking that maybe someday that could change. Maybe. I'm sort of up in the air about it right now.
5.) Something that I know is fairly popular is extreme FEM DOM stories. Again I know some very lovely authors who write these types of stories, but it's not something that gets my own engines running. I think you have to be very passionate about it in order to do it justice and I'm just not. What can I say? I crave those hot Alpha males! hehe!
Regina says...

As a writer who does hot and hotter, I have particular likes and dislikes in others' writing and my own. I've gotta say I don't understand the current popularity of m/m and f/f by hetero women who love romance. Now, I'm not a homophobe by any stretch of the imagination but I like to write what I KNOW and I don't know a whole helluva lot about m/m and f/f sex. Color me ignorant. I just don't understand why hetero women would enjoy it. Is it the promise of something completely different? I just don't know.
Admittedly, just today I did a scene featuring a little m/m touching in a ménage scene I was doing. It was an experiment to see if I could test the limits and wow, what a complete and utter newb I am with this stuff. A little bit, I guess is okay but would I lay down cold hard cash to read a completely gay erotica? Nope. Not in a million years. I firmly believe one should grab love and enjoy it in whatever form it takes. Yes, I'm for gay marriage and all the rights that come with it. However, I am not gay and wouldn't enjoy reading or writing it as a rule.
Kelley says…

Confession time! I've only been reading erotic romance for a little over a year now. I've read spicy romance for a few years now but the erotic part came later J. Over the past year I've devoured tons of erotic romance. I love the graphic scenes, love watching women admit their sexual fantasies, and like with all romance I have to have my happily ever after. There are a few things that just don't do it for me. One is Fem Dom. I love sexy Alpha males too much. I like a strong heroine as well but the hero has to be stronger. Another thing that just doesn't do it for me is happily ever after threesomes, or more. Now I love a good ménage just like the next girl but going back to my Alpha male thing I can't see a guy sharing their woman forever. I know I couldn't share my man forever. A fun romp while on vacation is different, fulfilling a fantasy is okay as well. I just don't like the whole happily ever after thing along with it.
Well that's all from your Wicked Writers for today. What about you? Is there any kind of erotic romance that you just can't handle?
About Me
Phoebe Jordan

I'm a part-time aspiring romance novelist, book reviewer and blogger. I've always wanted to travel the world and learn everything I can about other countries. Learning the Italian language is one way of trying to make that dream come true. Traveling will help me with my writing because I'll be learning about the history of the U.S., Latin America, England, Italy, and Ireland, the countries I find so fascinating while reading the romance genre.

 

I read and review romance novels of almost every subgenre along with erotic romance, mystery, sci-fi/fantasy and young adult novels. You can find the reviews at my blogs,

Talk About My Favorite Authors

and

Phoebe Jordan's Reviews

. I've also started a live podcast show called

TAMFA | Phoebe Jordan

hosted on

Blog Talk Radio

. This show is dedicated to everything I love about romance and young adult novels. I love having romance and young adult authors live on my show to be interviewed and showcase their books.


I plan to write contemporary romance, romantic suspense, erotic romance, paranormal romance and young adult when I get my writing career started with help from Keta. I'm not sure what genre I'll write to begin with since I love to read so many different romance genres.
View my complete profile

Romance Books

Romance Authors

Featured Post
Fifty Shades of Grey Movie Poster It was more than year ago that we had heard rumors that there would be a Fifty Shades of Grey movie com...

My Favorite Quotes

2018 Reading Challenge

Phoebe
has read 0 books toward her goal of 20 books.

I'm Currently Reading...
To Be Read Pile
*
LOL! Pictures

Guys I Dream About

Pinterest

Popular Posts
Well you may or may not remember but last year 4 of Nora Roberts novels became Lifetime original movies ( Angels Fall , Blue Smoke , Carolin...

It's been a year since I officially posted a blog here. I got a full-time job in an office last April 2011 and it really took all my at...

New Romance Author Interview Podcasts with Phoebe Jordan on BlogTalkRadio Today I have an RT BOOKlovers Convention special show for y...

Today I will be interviewing a newly self-published author who I found through MySpace. April Bostic is the author of a romance novel calle...

Well I'm not reviewing a book today but I will be reviewing the movie that was based on a very popular book. As you guessed it by readin...

Well today I have a special treat for everyone of my faithful readers out there. I have recently been contact with an author that I've r...

Aged to Perfection by Lauren Fraser Blurb: There is something so damn sexy about a younger man. Dumped by her husband of thirteen years...

I found out from a friend (anixela) who has a FictionPress.com account that it's a place where you can write you stories and have other...

15" MacBook Pro Well it has been almost about 2 months since I bought my 15" MacBook Pro and I have to say that though it'...

Blogs of Interest
AUTHOR Vina Arno – FINDER KEEPER OF MY HEAR

-

A Broadway hopeful believes her soul mate is named Avery, thanks to a message in a bottle from a WWII soldier with the same name. When she gets lost in a H...

10 hours ago

BABY TEETH Review & print galley giveaway

-

A battle of wills between mother and daughter reveals the frailty and falsehood of familial bonds in award-winning playwright and filmmaker Zoje Stage's ...

10 hours ago

Six on Sunday - WRYNTER, a Paranormal/Contemporary Fantasy Romance

-

Six paragraphs from *Wrynter, *a paranormal, contemporary fantasy, romantic suspense. 1. "I noticed you seemed to be comfortable inside my apartment. I sa...

11 hours ago

Sunday Sentiment

-

Life's problems wouldn't be called "hurdles" if there wasn't a way to get over them. ~Author Unknown

12 hours ago

Michelle Styleas: The #RomanceIncludesYou blitz opportunity for aspiring authors

-

In case you haven't heard, Harlequin is currently doing an across all the lines submission blitz for underrepresented authors --#romancesincludesyou. Au...

12 hours ago

Book Giveaway: TRUE-BLUE COWBOY by SARA RICHARDSON

-

TWO STORIES IN ONE: AN ALL-NEW SARA RICHARDSON NOVEL PLUS *SAVED BY THE COWBOY *BY A.J. PINE *"Filled with humor, heart, and love, this page-turner is on...

16 hours ago

VBT: The Crying of Ross 128 by David Allan Hamilton

-

Goddess Fish Promotions is organizing a Virtual Book Tour for The Crying of Ross 128 by David Allan Hamilton, a Science Fiction available now from Tellw...

20 hours ago

Saint or Sinner – Teaser Video

-

He fell for her…unfortunately, her mission is to kill him. My new paranormal romance, SAINT OR SINNER, will be here on 7/24/18. I can't wait for you to...

2 days ago

Lyn Cote Asks-Is God an Author?

-

I think He is. And a very good one. Just think of all the movies made of his "memorable" stories–Samson and Delilah (could a man be that dumb?–evidently–ye...

2 days ago

Big, fat liar…

-

I found this old blog post from this date TWELVE years ago. Thought you might enjoy the peek at the kind of mom I am: The other day Oldest wanted me to go ...

2 days ago

Friday's Mad Mad World!

-

Greetings precious ones! Can you believe what's happening in the world? Every day I scratch my head. Look at how the earth is groaning! *For we know tha...

2 days ago

To the 60s and Back

-

It is no longer 115 degrees here. Now it's just in the 90s with unusual humidity. So any way you look at it, it's still uncomfortable. I have been dragging...

2 days ago

Teaser Thursday – His Stolen Bride

-

This week's #TBT is dedicated to His Stolen Bride. My passion for romance began with historicals and that same fire burns today. The medieval Brothers in...

3 days ago

Writers on Their Toes

-

*~ Editor/Author/Publisher Mysti Berry is our guest at the Blood-Red Pencil today. ~* I'd like to share with you the most marvelous discoveries of my first...

3 days ago

ANTIQUE BLUES

-

[image: Antique Blues by Jane K. Cleland]Josie Prescott is the owner of Prescott's Antiques and Auction. When her best friend acquires a rare Japanese Wood...

3 days ago

Interview with Bishop Ken Giles, Author of Prayer, Marriage and the Leadership Roles of the Husband and Wife

-

Bishop Ken Giles began full-time ministry in 1993 as an inner-city Missions Leader in Dallas, Texas, while at Oak Cliff Bible Fellowship under Dr. Tony ...

4 days ago

Our RITA (R) Finalists

-

The annual Romance Writers of America conference is next week, and 5 of our authors are finalists The post Our RITA (R) Finalists appeared first on Avon ...

6 days ago

Checking things off the list

-

2018 Year of the New: Eliminate My To-Watch list. I can't believe its July. I'm just not ready. I have so many things to do. Though May was a great month w...

1 week ago

Checking In

-

I'm going to keep the blog on hiatus for a while longer -- probably until August or thereabouts -- but with all the recent personal drama I thought I shoul...

1 week ago

Not Just Any Jane: My Plain Jane Blog Tour, Famous Janes + Giveaway

-

It's no secret that I am a big fan of these authors and their previous joint adventure with MY LADY JANE. So, you can imagine how excited I am to partici...

2 weeks ago

Summer Hygge

-

When I was searching for the meaning of life (*mid-life crisis...cough cough*) I came across the term "Hygge" and was instantly smitten. It's a Danish wo...

2 weeks ago

TORN is now available!

-

Book three in the WHISKEY SHARP series, TORN is now available in print, digital and audio formats! *Sometimes what you find isn't what you were sea...

2 weeks ago

P.S. Shout-outs for Your Summer Reading List

-

By Traci Sorell & Gayleen Rabakukk for Cynthia Leitich Smith's Cynsations Wait! Did you think we could take a break without highlighting a few more books? ...

5 weeks ago

Teaching Update

-

Beginning this month, I'm so thrilled to be teaching at the historic and breathtaking waterfront Inn at Perry Cabin in St. Michaels, Maryland. Classes are ...

5 weeks ago

Wake Up, Faleena.

-

Dear Faleena, Just stop. Every time I see your name, all I can think is Liar, Liar, Pants on Fire. and I'm not the only one. At this point I am convinced ...

1 month ago

Release Party and Giveaway

-

*Join the Party at TomeTender Blog* Grab Your Copies *Amazon* *iBooks* *Kobo* *Barnes and Noble* Add to Want to Read on Goodreads

1 month ago

ALNAIRA QIANDRA ARDANI

-

1 month ago

Turn on https for a blogger/blogspot blog

-

Google allows your blogs to be served over an encrypted connection. This feature was rolled out long back for blogspot blogs. In order to make use of thi...

2 months ago

Spring brings changes

-

Who can believe that May is upon us! So much is going on here on the farm. Since I began my newsletters lots have changed. First, let me say I am so gratef...

2 months ago

YOU NEED AN EDITOR. YES, YOU. YES, YOU TOO. BY KATE MCMURRAY

-

*The editorial process seems to be one of those things that seems elusive to newbie writers and some seasoned authors as well. I'm a professional edit...

2 months ago

10 Most Watched True Blood Episodes

-

We're celebrating 10 years of True Blood this year with a series of special features. Today we're looking back at the 10 most watched episodes of the show....

2 months ago

A Friendly Town that's Almost Always by the Ocean by Kir Fox and M. Shelley Coats

-

[image: blog tour banner for a friendly town that's almost always by the ocean] *I received a complimentary copy of this book in exchange for my honest ...

2 months ago

定額料金で安心して利用できるところを選ぶべきです

-

最近、見るからに男性の欲望をあおるようなアダルトな出会い系が増えていますよね? 大人の関係を楽しみたいと考えている男性は、悪質業者のいいカモになってしまうことが多いようなので、アダルト系のサイトには登録しないようにしたほ … Continue reading 定額料金で安心して利用できるところを選ぶべきです

3 months ago

TO ALL THE RUGGED COWBOYS AND BRAVE COWGIRLS WHO RISK IT ALL FOR THE THRILL OF THE RIDE!

-

OUT OF THE CHUTE a brand new limited edition anthology!! Available now!! Do you love those rugged cowboys and brave cowgirls that risk it all for the th...

3 months ago

Monday Vibes…

-

This Monday is brought to you by coffee and positive self talk…

4 months ago

Rainbow Snippets: First Kiss

-

I meant to do this a couple weeks back but I've been busy on the weekends. Quite a few covers have been created in that time including one for a brand new ...

4 months ago

Midwinter's Eve Giveaway Hop 2017 @ A Writer's Dream

-

It's that time again for the *Midwinter's Eve Giveaway Hop*! And what better way to bring on the winter than with books and hot, cozy drink! Since I'm up...

6 months ago

Wise Words Your Mother Might Have Said - Week 6

-

Welcome again to 'Wise Words Your Mother Might Have Said - Week 6' *"Eat healthy snacks to keep up your energy and/or your grueling schedule." **(Sound fami...

8 months ago

A Visit with Stacey Parker McConnell

-

Hi Everyone, I'm here this evening with a very special guest. Stacey Parker, now Mrs. Cord McConnell, the heroine from* Surviving With Love*, is taking a f...

8 months ago

We've Moved!

-

[image: Related image] That's right! This blog has moved to Word Press! Visit us there at http://paigetylertheauthor.com/blog/ *hugs* Paige

8 months ago

THE BONE THIEF in stores now!

-

Hey Everyone! Just in time for Halloween, I'm So excited to announce that my new middle-grade novel, THE BONE THIEF, is in stores today! With plenty...

8 months ago

Free Book Friday is now Closed

-

You read that right – Free Book Friday is officially closed. *SIGH* But we do have one final message for you from FBF Founder, Jessica Brody…

11 months ago

Introducing FLASH BY NASH and a FREE NOVELLA

-

*Lovely Readers,* *This is my last post here on my old blog, because I've launched an exciting new one! * [image: Visit FLASH BY NASH]Flash by Nash feature...

1 year ago

Good Morning…

-

So, I own this shirt: And I was wearing it the other day when I went outside to… Wait, WTF was I doing outside? Rarely happens. Anyway, must've been a comp...

1 year ago

The Last Farewell

-

I'm so grateful for all the fun we've had and the friends we've made. I'll see you around the Internet! –Theresa After all these years, I'm going to miss "...

1 year ago

Seperti Apa Sistem Filtrasi Air dalam Proses Reverse Osmosis

-

Reverse Osmosis adalah proses untuk menghilangkan padatan inorganik terlarut (misalnya garam) dari pelarut (misalnya air). Hal ini dicapai dengan meneka...

1 year ago

Monster in his eyes by J.M. Darhower

-

Monster in His Eyes by J.M. Darhower My rating: 3 of 5 stars What on Earth does Naz find in Karissa? She is as stupid as they come and her abilities to hol...

1 year ago

Yes! I'm touring again! (Sometimes with Kristin!)

-

YAAASSSS! XXXOOO PC

1 year ago

これだ!自分にピッタリのスムージーダイエット

-

優れたグリーンスムージーのアドバンテージは、体のことをよく考えた食事が素早く手に入れられることや少し食べるだけも満足できる味と量、そしてなかなか摂れない栄養成分がバランスよく入っていることにあります。 女子でダイエットし […] これだ!自分にピッタリのスムージーダイエットはthe book faery ...

1 year ago

Curved Lines

-

The post Curved Lines appeared first on .

1 year ago

A Personal Experience with Grief and Acceptance

-

To be completely honest, I have not created a blog in such a long time that I'm almost embarrassed to create one now. I even had a challenge remembering my...

2 years ago

Book Review: Caught Up In RAINE (Caught Up In Love #1) by: L.G. O'Connor

-

*Publisher: * *Collins-Young Publishing LLC* *Publication Date: * *April 18, 2016* *Origins: * *From Author for Review* *Synopsis: * *"Don't judge a boo...

2 years ago

Heartbreakers and Heroes by Various Authors

-

*Heartbreakers and Heroes* *By:* Various Authors *Publisher:* Amazon Digital Services LLC *Published:* June 21, 2016 *Genre:* Contemporary, Anthology, Roman...

2 years ago

We have moved!

-

Hi there! Just to let you know the Harlequin Historical Authors have reinvented themselves! You can now find us at the Hussies' Historical Hideaway, her...

2 years ago

Carolyn Brown's NEW Kindle World: Blame it on Texas by C.H. Admirand

-

Break out the bubbly and raise your glass with me as I toast the totally FAB Carolyn Brown and congratulate her on the launch of her NEW Kindle World: B...

2 years ago

The Widow's Mite & Raising an Adult Child with Mental Illness When Only One Part of The Village is Involved

-

My son has always been a bit quirky. I sloughed it off to him being a team member of special education plus he was a boy. He'd cry when I dropped him at ...

2 years ago

高級デリヘル嬢が六本木で働く利点

-

都内でも多くのセレブが集まる街として知られている六本木。それだけに多くのお金を持っているセレブ男性たちのお眼鏡に叶う女性が数多く在籍する、高級デリヘルが盛んであるのも頷ける。ここでは東京でも指折りのセレブタウンである六本 […]

2 years ago

Cheap Verizon Wireless Cell Phones

-

DROID XYBOARD 10.1" BY MOTOROLA 16GB Introducing the DROID XYBOARD, a home theater, compressed to fit in your hands. Packing an HD screen into an 8" tablet...

2 years ago

In the Heart of the Sea (2015)

-

Full Length of In the Heart of the Sea in Best LookNow you can watch full In the Heart of the Sea in best video format with duration 121 Min and has been ...

2 years ago

So this is October's big news…

-

From the Marsal Lyon Literary Agency: SOLD! Dana Fredsti's LILITH, in which successful actress and stuntwoman Lee Striga finds herself with an unwanted se...

2 years ago

Uji Konsumsi BBM Honda BeAT eSP ISS dgn Premium, Pertamax, Pertalite

-

Berapa Konsumsi BBM Honda BeAT eSP ISS dgn Premium, Pertamax, Pertalite - Sejak pertama kali meluncur tahun 2008, motor Honda BeAT telah menjadi motor terl...

2 years ago

Find me elsewhere

-

I've officially decided to stop mirroring my blog content here on blogspot — sorry to all my subscribers on here, but it's just one extra step too many. T...

2 years ago

IT IS YOUR BOOK. WRITE IT.

-

In 2004, I moved down south where I lived for the next ten years. I married, divorced, travelled, made and lost friends. As I approached 50, I developed...

2 years ago

Advertising e-book before release

-

I finished another book titled *Running from her Past* and scheduled it for a preorder on October 10thfrom Smashwords.com. I tried this before but didn't ...

2 years ago

Lucy Monroe Recommends: A Perfect Time for a Gothic Wedding

-

The month of October has thoughts of gothic romance and weddings swirling through my head because my son is getting married this month! He and his bride h...

2 years ago

BookEnds Has Moved

-

I'm thrilled to announce that BookEnds has set up a new home and a new look. From this moment forward you can find BookEnds at www.bookendsliterary.com He...

2 years ago

Perfect Touch by Elizabeth Lowell Book Review

-

Perfect Touch by Elizabeth Lowell *Title:* *Perfect Touch* *Author:* Elizabeth Lowell *Publisher:* HarperCollins Publishers *Publication Date:* July 28, ...

2 years ago

Now Available: Slave To Love by Bridget Midway

-

*It's finally here! Pick up the sequel to Bridget Midway's bestselling LOVE MY WAY!* *SLAVE TO LOVE - now in eBook and print!* It's been five years, and ...

2 years ago

FATAL PURSUIT coming soon!

-

One week until release day! [image: Fatal Pursuit Promo 1] Preorder FATAL PURSUIT here. … Read more »

2 years ago

Alzheimer's and zombies

-

Daddy, Christmas 2012 My dad wasn't a rocket scientist, but he came close. He was a nuclear physicist with a near photographic memory. When the Alzheimer's...

3 years ago

First Page Critique: Where to Start the Story - Secrets of the Home Wood

-

Jordan Dane @JordanDane [image: twilight forest moon] *Below if the first 400 words of an anonymous submission from a follower here at The Kill Zone. My ...

3 years ago

Let's Keep This Between Us, Okay?

-

Here's the thing, friends. Some of you read The Talents (or maybe you read it when it was called The Candidates). Some of you (a strong but mighty few) rea...

3 years ago

Fantasy For Good hits the shelves

-

Today is December 9, 2014, and you know what that means — it's the day after my birthday! And **that** means today is launch day for FANTASY FOR GOOD: A ch...

3 years ago

Jo Robertson - "The Traitor" [Trailer]

-

3 years ago

I'm baaaa-aack!

-

Long time, no see! I've had a number of things that have kept me away including finishing a MS in Psychology and a total life overhaul. I won't bore you wi...

3 years ago

Leo and You Contest!

-

[image: leo cover]The fourth book in the Noble historical series is out on Tuesday, August 5th, and in celebration of my return to the world of historicals...

3 years ago

Summer Reading Recommendations

-

It's summer! (I know summer doesn't officially start until June 21, but for me and any student I've ever known, summer starts the moment that bell rings on...

4 years ago

FIFA World Cup Brazil Predictions

-

Spain Vs Germany World Cup 2014 Predictions Germany is always a critical group with excellent organizational skills and willpower. German players are not a...

4 years ago

Friends with Benefits (The Vault Series) by Anne Lange

-

HOT!.......... SEXY!.......... SENSUAL!.......... POWERFUL!.......... LUST, PASSION & EROTIC!.......... CAN'T MISS!.......... Amazon US: http://am...

4 years ago

Mondo Christmas E-Book Giveaway!

-

To celebrate the holidays, I'm having a mondo international giveaway of many of my books on Kindle from *December 19-December 21*. (My publishers retain ...

4 years ago

Latest from the pen of Laura Florand!

-

Okay, ladies, let's try this one more (and last) time. I never heard from Phoebe so I've chosen another winner. The new winner is KIM V - congratulations...

4 years ago

Fun Vacation But Not Expensive

-

In the event that sit down to plan your vacation, you'll need a fun vacation nevertheless not an expensive anyone and that will be the the Internet is usef...

4 years ago

The End of Night by B.L. Bonita

-

Title: The End of Night Author: BL Bonita Publisher: Liquid Silver Books Publication Date: Jan. 31, 2011 ISBN: 978-1-59578-806-1 Genre: Historical 1910, Su...

4 years ago

My new book is out today!

-

I'm so pleased to be able to announce the release of my fourth book, MARIE ANTOINETTE, SERIAL KILLER! It's the story of Colette, an American high school gi...

4 years ago

You might have heard...

-

That something new is brewing in the Nightshade world. I'm happy to confirm that it's true. Two new projects are afoot. YA fans can expect three new novel...

4 years ago

Time For A Change

-

For a number of years, American Romance authors have shared successes...and a few failures, joys...and a couple of tribulations, hopes and the very best ...

5 years ago

I'm a sojouner

-

I am constantly amazed at the things God does for me. He has opened up unexpected doors in unexpected places. Recently, without revealing too much of my p...

5 years ago

Blog Update: Times Are Changing

-

I wanted to share with all my followers that there will be a slight pause in review posting for a few days. I finally caved and I am switching the blog to ...

5 years ago

Conference Moved to May 16-19th

-

The best laid plans of mice and men.... Life will do what it tends to do. Which lately seems to be delay what I want most- Online Conference! So May it mu...

5 years ago

First Ever Mia's Muses Only Contest!

-

Hello, my dear Muses! After a few false starts, I think I've figured out a way for us to have a special place on the web. Welcome to our new cyber-home. Th...

5 years ago

Download free WOLF'S SOUL. FREE only today

-

You can download a free copy of Wolf's Soul from Museitup today. Tierney O'Malley's *Wolf's Soul* Paranormal Romance To keep the woman he loves,he'll do mo...

5 years ago

Alice's Review: Pleasure of a Dark Prince by Kresley Cole

-

*Released:* 16th February 2010 *Paperback:* 431 pages *Price:* $12.99 *Publisher:* Simon&Schuster *Source:* Bought *Genre:* Paranormal romance *Series:* I...

5 years ago

Pub Rants Has Moved!!

-

STATUS: You'll have to check out the new location to see how I'm feeling. *grin* What's playing on the XM or iPod right now? At the time I wrote that blog...

5 years ago

We've Moved!

-

*Beginning January 1, 2013* *all LASR Reviews may be found here**.* *Stop by the new site and take a look around.* *Happy New Year! *

5 years ago

We've Moved!

-

*Beginning January 1, 2013* *all LASR Reviews may be found here**.* *Stop by the new site and take a look around.* *Happy New Year! *

5 years ago

We've Moved!

-

*Beginning January 1, 2013* *all Long and Short Reviews Interviews* *may be found here.* *Stop by the new site and take a look around.* *Happy New Year! *

5 years ago

We've Moved!

-

*Beginning January 1, 2013* *all Long and Short Reviews Interviews* *may be found here.* *Stop by the new site and take a look around.* *Happy New Year! *

5 years ago

We've Moved!

-

*Beginning January 1, 2013* *all Long and Short Reviews Interviews* *may be found here.* *Stop by the new site and take a look around.* *Happy New Year! *

5 years ago

La Dame à La Licorne by Anne Marie

-

*La Dame à La Licorne by Anne Marie* Publisher: Musa Publishing Genre: Sci-Fi/Fantasy, Historical, Suspense/Mystery Length: Short Story (15 pages) Ratin...

5 years ago

PARADISE HOPS by Liz Crowe

-

Please welcome author Liz Crowe, who recently released her contemporary romance, *Paradise Hops*. This blog post is part of a tour organized by Goddess F...

5 years ago

Who Is Raising These Kids?

-

A pet peeve of mine happens to be rude kids. Children who simply have NO sense of acting properly within society. Over and over again I have kept running i...

5 years ago

Review & Blog Tour: INNOCENT DARKNESS by Suzanne Lazear

-

Thanks to Mundie Moms for having us participate in the INNOCENT DARKNESS Blog Tour! *Title*: Innocent Darkness *Series*: The Aether Chronicles #1 *Paper...

5 years ago

Tulsa Signing!

-

This Saturday, July 28th, I will be doing a book signing in Tulsa with Sarah Rees Brennan (THE DEMON'S LEXICON, TEAM HUMAN, UNSPOKEN) and Ally Carter (the ...

5 years ago

Noble Romance Authors

-

About Noble Romance Publishing *No•ble* /ˈnoʊbəl/ [noh-buhl] –adjective *Etymology*: Middle English, from Anglo-French, from Latin nobilis well-known, nob...

6 years ago

Types of the Genitive Case

-

The dependent genitive In this case a noun in the genitive case generally precedes another noun which is its head-word. The dependent genitive may be of two...

6 years ago

New Blog for TKA

-

We're packing up our bags and moving away from Blogger Town. From now on, TKA's blog will be hosted on our website. We hope you'll come visit us in our n...

6 years ago

Time to make history today.

-

You know, usually I post fun little things, blow the dust off this blog and maybe run a contest or even write about something writerly. This isn't a daily ...

6 years ago

Gold, Frankincense, and Murder by Barbara Early

-

Title: *Gold, Frankincense, and Murder* Author: Barbara Early Publisher: White Rose Publishing Publication Date: 12-01-2011 ISBN: 978-1-61116-123-6 Genre: C...

6 years ago

A Sad But Fond Farewell

-

2011 had been a very intense year for me. Some positive happenings, some not so much, but altogether it has meant that I have had very little time for the ...

6 years ago

Return of the Save the Cat Novel Workshop!

-

Attention, writers!!! Back by popular demand (I've always wanted to say that!), I'm doing another SAVE THE CAT Novel-Writing Beat Sheet Workshop! I was th...

6 years ago

Sword Master Bob Anderson has passed.

-

http://www.huffingtonpost.com/2012/01/02/bob-anderson-dead-sword-master-darth-vader_n_1179324.html?icid=maing-grid7|main5|dl2|sec3_lnk1%26pLid%3D124264

6 years ago

End of Year Changes - JessicaVerday.com & AbbeysHollow.com

-

So this is the blog post that I've been contemplating for a long time. A long, *long *time. And I can't believe that the time has finally come. It's here. ...

6 years ago

Exciting News - and Thank You

-

I'm very excited to announce that I've reached one million units sold! Releasing my digital backlist and reconnecting with my stories, characters, and new ...

6 years ago

Whiz Bang-Coming November 1

-

Coming November 1 to a e-book retailers everywhere is Whiz Bang, a book in the sizzling hot Toys 4 Us series. Mark your calendars folks!

6 years ago

Pimpin' My Girls

-

Two of my friends have new releases out that are super hot. First up is Emily Ryan-Davis' tale of forbidden love set in the midst of a sultry Virginia su...

6 years ago

Dane Hart Discuss: Non Fan Mail!

-

Click to Play It's ok if you don't like it. We just don't want to know about it! Copyright © 2016 Dane & Hart :: Bring Me My Hookah!. This Feed is for pers...

6 years ago

Deconstructing My Orgy by William Maltese

-

Yes, I confess, that I, just into puberty, had a very vivid (wet) dream, one night, in which I screamed out— "Bring on the Dancing Girls!" —and woke up my ...

6 years ago

Fan letter to author Nalini Singh

-

Dear Ms. Singh, I know you are a very popular author these days, with not just one but two amazing series available to your readers, and you probably get ...

7 years ago

Review: Mine to Possessby Nalini Singh

-

*A woman returns from a leopard changeling's past, making him question his base animal instincts-and unlock the darkest secrets of his heart.* {goodreads...

7 years ago

End of Days – Sold!

-

I'm back from RT and I think I've finally caught up on sleep. Oh my gosh, I was so jet lagged and I didn't fly, I drove! But what a great time I had. Met n...

7 years ago

RED MORTAL OUT TODAY!! WOOT!

-

Today is the B-I-G day! The last book in Deidre's Gods of Midnight series, RED MORTAL, is out, and finally the epic love story of King Leonidas and Daphne ...

7 years ago

Win the Eclipse Soundtrack!!!

-

It's Started!!!! The lines are forming and readers are getting ready to watch the new Eclipse movie. If you are not there yet don't worry we want you t...

8 years ago

Research is Hell...Okay. No, It's Not.

-

I just got back from a trip to England and Ireland. All right. I'll be honest. I would have gone no matter what. But this time I got a chance to research ...

8 years ago

Ciao, Bellas: RBTB Says Arrivederci

-

Well, OK. Not forever. Just, you know, for the summer. My kids now are going through their second out-of-state move in less than two years, their third in ...

8 years ago

Fresh excerpt – Immortal Outlaw

-

It's excerpt month over at the Rose City Romance Writers blog, and to celebrate, I contributed a never-before-posted bit of Chapter 2. While you're over th...

8 years ago

STIMULATION

-

My parents were always avid readers. When I was a kid, I remember going into their bedroom at night and they'd both be lying there with a paperback book in...

8 years ago

An Ode to Sleep Deprivation

-

The age old dilemma: to write or to sleep? If I go to bed now, will my stories all keep? If I stay up too late, on the morrow I'll weep Let's be honest, I'm ...

10 years ago

Difference - HTML and XHTML

-

When inserting codes into the Blogger template, page element, or blog post, you may have seen error messages that the code could not be parsed, was not wel...

10 years ago